MILA in the News
Mapping Indigenous Los Angeles in the news.
Symposium: East Oceania: Indigenous Seascapes and Geographies
These articles describe a symposium hosted by UCLA's Mapping Indigenous Los Angeles collective, titled "East Oceania: Indigenous Seascapes and Geographies"  in April 2015. Read more about the symposium at Marianas Variety and the Saipan Tribune.
Mapping Indigenous LA: Uncovering Native Geographies Through Digital Storytelling
This article on AHA Today features an interview of Mishuana Goeman, co-principal investigator of the project, by Kritika Agarwal from August 9, 2016.
Read on AHA Today's website.
Mapping Indigenous L.A.
Kritika Agarwal | Aug 9, 2016
Indigenous history is everywhere, and yet too often overlooked or ignored. In Los Angeles, a coalition of academics, archaeologists, activists, and members of local indigenous communities, is working to create a digital storymapping project that "aims to uncover and highlight the multiple layers of indigenous Los Angeles." Mapping Indigenous LA is exemplary in its privileging of indigenous knowledge and protocol, as well as in its attention to documenting the presence of Southern California's original inhabitants as well as diasporic indigenous communities. AHA Today spoke to professor Mishuana Goeman, co-principal investigator of the project, for more on this effort.
Read the full article at American Historical Association: Perspectives on History.
LA's Tongva descendants: 'We originated here'
Written by Jenny Hamel  LOS ANGELES
KCRW listener Araceli Argueta wanted to know more about the history of Los Angeles' indigenous people and submitted this question to Curious Coast. "What Native Tribes' lands are we on? Are there living descendants? What is their story?"
Hear the full interview at KCRW Curious Coast.
A Brief History Of L.A.'s Indigenous Tongva People
BY ANNIE LLOYD IN ARTS & ENTERTAINMENT ON OCTOBER 9, 2017 12:00 AM
… When the Spanish arrived in Southern California, they sought fertile land to produce the crops they were hoping to cultivate. This led them to the bountiful San Gabriel Valley (the San Gabriel Mission is credited as the first location of Spanish settlers in the area that became Los Angeles). Craig Torres of the Tongva community, through UCLA's Mapping Indigenous L.A. project, explains how, prior to Spanish arrival, the San Gabriel Valley consisted of a "concentric circle" of native communities, which the Spanish recognized and exploited—they subsumed inter-connected communities into the Mission system, which was easier for them than accessing isolated communities along the coast (the dual name of Gabrieliño-Tongva comes from forced assimilation at the hands of the San Gabriel missionaries).
Read the full story at LAist.
Mapping Indigenous Los Angeles: A Public History Project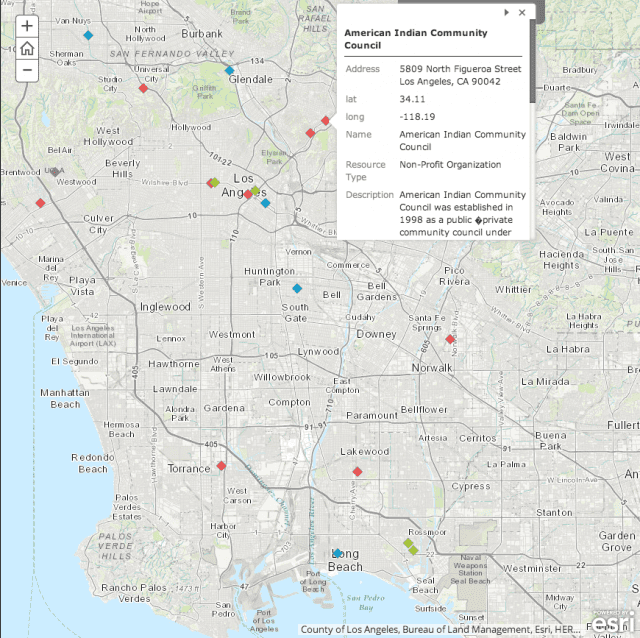 By Caroline Murray
Los Angeles is a city famous for its Hollywood celebrities and traffic, but a new project reveals an often overlooked part of the city's past and present: its indigenous population, cited as one of the largest among American cities. Mapping Indigenous LA (MILA) brings to life the histories and current dilemmas of LA's indigenous people in the twenty-first century, instead of leaving them behind in the past.
Teachers: Here's a study guide to teach about Tongva in your classrooms
In California, the study of pre-Columbian settlements and people is introduced in the fourth grade, and while the state's framework for social science instruction does not mention Tongva, the lives of these indigenous people play a key role in the history of Los Angeles.