Our Team
We are a team comprised of faculty and students from UCLA, as well as community researchers.
Dr. Maylei Blackwell (Co-PI)
Dr. Maylei Blackwell (Co-PI) has worked with the indigenous social movements in Mexico for over twenty years.  For the last ten years, she has conducted community-based and collaborative with migrant indigenous communities from Mexico and Guatemala who live and work in Los Angeles. Read More
Dr. Mishuana Goeman (Co-PI)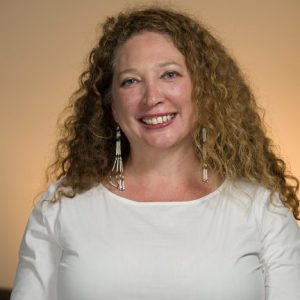 Faculty Researcher
Dr. Mishuana Goeman, Tonawanda Band of Seneca, is an Associate Professor of Gender Studies, Chair of American Indian Studies Interdepartmental Program, Associate Director of American Indian Studies Research Center, and the Special Advisor to the Chancellor on Native American and Indigenous Affairs at UCLA. She is the author of Mark My Words: Native Women Mapping Our Nations (University of Minnesota Press, 2013) and the forthcoming Settler Aesthetics and the Spectacle of Originary Moments: Terrence Malick's the New World (University of Nebraska Press). She is a Co-PI on two community based digital projects, Mapping Indigenous L.A (2015) and Carrying Our Ancestors Home (2019), a site concentrating on better working tribal relationships and communications as it concerns repatriation and NAGPRA. Book chapters are included in Theorizing Native Studies (Duke University Press, 2014), Sources and Methods in Indigenous Studies (Routledge 2016), Macmillan Interdisciplinary Handbooks: Gender: Sources, Perspectives, and Methodologies (2016), Critically Sovereign: Indigenous Gender, Sexuality, and Feminist Studies (Duke University Press, 2017) and a forthcoming chapter in Biopolitics – Geopolitics – Life: Settler-colonialism and Indigenous Presences (Duke University Press). She also publishes widely in peer-reviewed journals, including guest edited volumes on Native Feminisms and Indigenous Performances.
Mapping Indigenous LA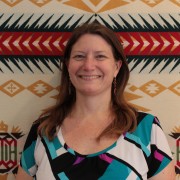 Faculty Researcher
Dr. Wendy G Teeter is the Curator of Archaeology for the Fowler Museum, UCLA NAGPRA Coordinator, and teaches periodically in UCLA American Indian Studies and California State University, Northridge Anthropology Department. She is a member of the UC President's Native American Advisory Council. Teeter collaborates nationally and internationally with indigenous communities on issues of repatriation and cultural heritage protection. She is Co-PI for Mapping Indigenous Los Angeles, a community-based website devoted to storytelling through cultural geography and map making as well as providing educational resources and curriculum and for Carrying our Ancestors Home, which tells the history of repatriation at UCLA and stories of repatriation from Indigenous communities. Since 2007, Teeter has been co-director of the Pimu Catalina Island Archaeology Project, which seeks to understand the indigenous history of the island and Tongva homelands through multi-disciplinary and collaborative methodologies. The Project provides a field school that has educated over 150 students on the importance of community-based indigenous archaeology. Teeter helped to develop the Tribal Learning Community & Educational Exchange Program in the Native Nations Law & Policy Center, UCLA School of Law in 2003 and serves as on its Advisory Board. In June 2011 she co-curated, "Launching A Dream: Reviving Tongva Maritime Traditions," at the Fowler Museum at UCLA with Cindi Alvitre (Director, Ti'at Society). She serves on several boards and committees including as Chair of the Society for California Archaeology Curation Committee and Editorial Board Member, Heritage & Society Journal.
Mapping Indigenous LA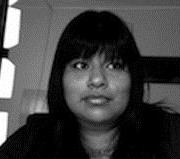 Dr. Lourdes Alberto
Contributor, Latin American Indigenous Diaspora Team
Dr. Lourdes Alberto is an assistant professor in the English Department and Ethnic Studies Program at the University of Utah. A Los Angeles native and a member of the Zapotec indigenous community from Oaxaca, Mexico, professor Alberto received her PhD in English from Rice University with specialties in Chicana/o Literature and Indigenous studies. Her overall research interests are intensely interdisciplinary and focus on hemispheric movements of the concept of indigeneity and indigenous culture throughout the Americas. Her current book project, Mexican American Indigenisms: Transnationalism and Indigeneity in Chicana/o and Oaxacan Literature and Culture, offers a comparative study of Chicana/o and Oaxacan literature and culture bringing to light how the figure of 'the Indian' and discourses about indigeneity have been indispensable to the construction of ethnic, cultural, and political identities of Latinos in the US. Most recently, she contributed a chapter, "Topographies of Indigeneity," to the anthology Comparative Indigeneities edited by Arturo Aldama, Bianet Castellanos, and Lourdes Gutiérrez-Nájera forthcoming from University of Arizona Press.
Mapping Indigenous LA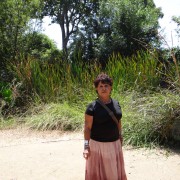 Angie Behrns (Founder of the Kuruvungna Springs Foundation)
Contributor
Ms. Behrns is a tribal elder and activists, who since the early 1990's has been fighting to preserve Kuruvungna Springs, located on University High school and leased to them by LAUSD. "The Gabrielino/Tongva or "people of the earth" occupy present day Los Angeles Basin and parts of Orange County in a complex network of villages. One village, Kuruvungna (A Place Where We Are In The Sun), is located near springs that still run today from the Santa Monica Mountains" (Source: The Gabrielino/Tongva Springs Foundation Archives, Application Materials for the Governor's Historic Preservation Award/Tongva Springs Foundation Archives, Application Materials for the Governor's Historic Preservation Award). She also published a monthly newsletter for many years that not only addressed Tongva issues but presented a crosscurrent of Indigenous issues in the area. She was also appointed to the Los Angeles City County Native American Indian Commission. For Ms. Behrns keeping the memory and rich cultural history of the springs alive has been a labor of commitment to clean-up and maintain a site, once decimated through neglect
Mapping Indigenous LA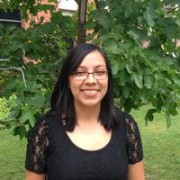 Floridalma Boj-Lopez
Contributor, Latin American Indigenous Diaspora Team
Floridalma Boj-Lopez is a doctoral candidate in USC's Department of American Studies and Ethnicity. Self-identified as a 1.5 generation Maya-Kiche and raised in Los Angeles, she uses her family history and life experiences to guide her research project. Her research examines forms of cultural maintenance among Guatemalan Maya migrants and second generation Mayas in Los Angeles, especially as they relate to envisioning and living just, decolonial and indigenous politics. She received a B.A. from the University of California, Santa Cruz and an M.A. from California State University, Northridge.
Mapping Indigenous LA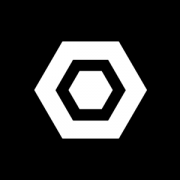 Kat High (Filmmaker/Director/Educator)
Contributor
Kat High is a member of the Hupa nation from California who has documented over 30 years of Indigenous activism in Los Angeles. She sits on numerous boards and does Native outreach for LAUSD and beyond. Forthcoming will be an archive that documents Indigenous LA at the crossroads. We are very fortunate to have her join our project.
Mapping Indigenous LA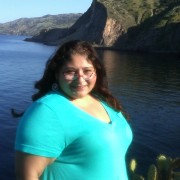 Desiree Martinez (Tongva Educator, Indigenous Archaelogist)
Contributor
Desiree Renee Martinez is Gabrieliño (Tongva) and an archaeologist working for Cogstone Resource Management. Desiree received her BA in Anthropology from the University of Pennsylvania and her MA in Anthropology from Harvard University. Desiree is a co-Director of the Pimu Catalina Island Archaeological Field School a native-centered course that melds archaeology with traditional knowledge in collaboration with Gabrieliño (Tongva) community members. In January 2011, Desiree, with other community members and archaeologists, was instrumental in bringing to light the secret removal of burials from the Campo Santo, a historic Catholic cemetery in Downtown Los Angeles which holds the remains of early Los Angelenos, including the ancestors of the Gabrieliño, Luiseno, Cahuilla, Juaneno, and Paiute people. Desiree's life has been dedicated to obtaining the skills and knowledge necessary to combat the wanton destruction of Native American sacred and cultural sites. Desiree's dream is to open up a Gabrieliño (Tongva) museum and cultural center to remind the southern California community of the Gabrieliño's vibrant heritage and continuing contribution to the southern California region.
Mapping Indigenous LA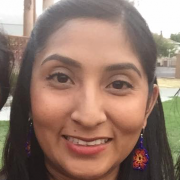 Janet Martínez
Contributor, Latin American Indigenous Diaspora Team
Janet Martínez is an indigenous Zapotec from the village of Zoogocho, in the northern mountains of the state of Oaxaca, Mexico. Janet was born in Los Angeles and was raised in south central L.A. She has volunteered since her adolescence with the Indigenous Front of Binational Organizations (FIOB). Recently, Janet worked with the Binational Center for the Development of Oaxacan Indigenous Communities (CBDIO). Currently, she is working on a project of photographic exhibition for the Oaxacan Heritage Month in Los Angeles titled, "Journey to Success: Zapotecs Forging Identities in Los Angeles." Janet obtained her B.A. degree in Women's Studies from the University of California, Berkeley.
Mapping Indigenous LA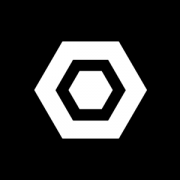 Timmy Ryan Ornelas (Sound Mixer / Assistant Editor)
Contributor
Timothy is a member of the Tataviam Band of Mission Indians tribe, born and raised in the San Fernando Valley of California. Timothy completed the recording arts program in 2013 graduating with honors from the Los Angeles Film School where he received his Associates of Science degree along with a Protools Certification.
Timothy works as a freelancer in production audio on various productions both within and out of the American Indian community. He is skilled in production audio, post production, film editing and social media management.
Mapping Indigenous LA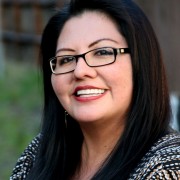 Pamela J. Peters (Filmmaker/Director/Photographer)
Contributor
Pamela J. Peters (Navajo) is an Indigenous multimedia documentarian and film consultant living in Los Angeles, California. She was born and raised on the Navajo Reservation. She has produced five award winning films for the Southern California Indian Center's InterTribal Entertainment multimedia program, co-created film workshops for Native youth, produced PSA's for Fox Studio's American Indian Summer Institute program, and co-hosted a monthly film series of Indigenous films. Her own work pushes viewers to critically analyze the psychological and historical structures of Native Americans in film and mass media. Pamela has a BA in American Indian Studies from UCLA.
Current Projects can be seen at www.exiledndnz.com and www.tachiiniiphotography.com
Mapping Indigenous LA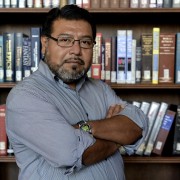 Dr. Gaspar Rivera-Salgado
Contributor, Latin American Indigenous Diaspora Team
Gaspar received his doctorate in sociology from the University of California, Santa Cruz. He is currently Project Director at UCLA Center for Labor Research and Education where he teaches classes on Work, Labor and Social Justice in the US and immigration issues. He also directs the Institute for Transnational Social Change. He has previously held positions at several universities in the United States and was named the 2004-2005 Prince Claus Chair in Development and Human Rights at the University of Utrecht, in the Netherlands. He currently serves as an advisor to several migrant organizations in California and Mexico, including the Fresno-based Binational Center for Oaxacan Indigenous Development, the Binational Front of Indigenous Organizations and the Oaxaca-based Desarrollo Binacional Integral Indígena A.C. He has extensive experience as an independent consultant on transnational migration, race and ethnic relations and diversity trainings for large organizations. He was appointed by Mayor Eric Garcetti in 2014 as Vice-President of the Human Relations Commission for the City of Los Angeles. Among his publications include (with J. Fox) Indigenous Mexican Migration in the United States (University of California, San Diego, 2005); and the recently published volume (with E. Telles, and M. Sawyer) Just Neighbors?: Research on African American and Latino Relations in the United States (Russell Sage Foundation Press, 2011).
Mapping Indigenous LA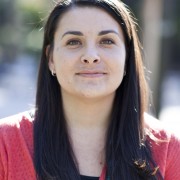 Theresa Jean Stewart
Contributor, Author of Indian Education Storymap
Theresa Jean Stewart (San Luis Rey Band of Mission Indians/Gabrielino/Tohono O'odham) is a third year doctoral student in Higher Education and Organizational Change at the UCLA Graduate School of Education and Information Studies. She previously received a BA in American Indian Studies and MEd in Student of Affairs from UCLA. Theresa's doctoral research focuses on the impact of in-college experiences on the retention and completion of American Indian students from postsecondary institutions, with a focus on students from Southern California tribal communities. Her contribution to the project was assisting with the story map on American Indian education history and resources.
Mapping Indigenous LA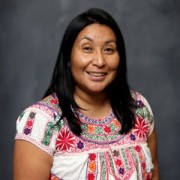 Odilia Romero Hernández
Contributor, Latin American Indigenous Diaspora Team
Odilia Romero Hernández is an indigenous Zapotec from the village of Zoogocho, in the northern mountains of the state of Oaxaca, Mexico. In the 1981, she migrated to Los Angeles and settled in the Pico-Union district. She is the Vice Binational Coordinator of the Frente Indígena de Organizaciones Binacionales/Indigenous Front of Binational Organizations (FIOB). She served six years (two terms) as Binational Women's Issues Coordinator of the FIOB and for more than a decade has worked with indigenous Mexican a binational organization in the areas of human rights and cultural and political education. She co wrote, with Maylei Blackwell, Rufino Domingues and Laura Velasco and Centolia Maldonado Vazquez, "Genero, generación y equidad, Los retos del liderazgo indígena binacional entre México y Estados Unidos en la experiencia del Frente Indígena de Organizaciones Binacionaless (FIOB)," which appears in Otros Saberes: Collaborative Research on Indigenous and Afro-Descendant Cultural Politics as well as "Indigenous Migrants and Language Barriers in the United States," published in Diálogo, Center for Latino Research, DePaul University. Her testimonio has been published as: "Mujer rebelde: testimonio de Odilia Romero Hernández." ("Rebel Woman: Testimony of Odilia Romero Hernandez") in Desacatos 31 (2009).
Mapping Indigenous LA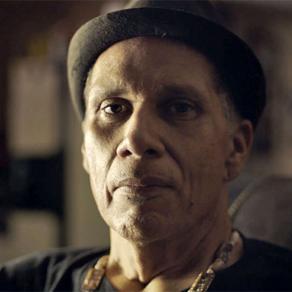 Craig Torres (Tongva Educator)
Contributor
Craig is descended from the indigenous communities of the Yaavetam (Los Angeles) and Komiikravetam (Santa Monica Canyon) that existed in the Los Angeles Basin. The descendants are more commonly known today, collectively as the Tongva or Gabrielino Indians of San Gabriel Mission. He is also descended from three of the founding families of Los Angeles pueblo in 1781.
Craig is a member of Traditional Council of Pimu (one of several Tongva communities in the Los Angeles Basin) and involved with Ti'at Society, an organization focused on the revival of the traditional maritime culture of the Southern California coastal region and Southern Channel Islands. In the early 1990s, the community built the first traditional plank canoe, called a ti'at , that had disappeared for many decades.
Craig has been active all of his adult life engaged as a Tongva cultural educator, presenter and consultant to many schools, culture and nature centers, museums as well as city, state and government agencies acting as a consultant on Tongva history, culture and contemporary issues.
He continues to work as a freelance cultural educator and works as an ongoing consultant at Rancho Los Alamitos Historic Ranch and Gardens in Long Beach, working with the Tongva program that he helped develop. The program caters to 3rd and 4th graders and educates and informs the children about the Tongva, and their survival off the land through food, clothing and shelter. He has also been involved with the organization "Sharing Our Heritage" and Chia Café, which provide cooking demos and classes with California native plants. These activities also provide education on the importance of preserving native plants, habitats and landscapes for future generations. He is also an advocate of "indigenizing" public and residential landscapes to California native plants and raising the public's awareness of drought and water issues.
As an artist, he derives his inspiration from his Tongva cultural heritage. He works in digital media as a graphic designer, mixed media as well as utilized some of his designs as inspiration for community collaborative "sacred art" installations. His artwork continues to evolve and evoke, combining traditional art forms such as painting and drawing with the current technology of digital media with inspiration coming from his life experience as well as his cultural and historical background.
Mapping Indigenous LA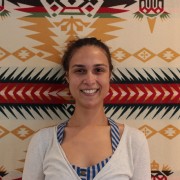 Chantal Walker
Contributor, Author of LA Water Storymap
Chantal Walker is a recent graduate of the American Indian Studies Master of Arts program at University of California, Los Angeles. She graduated from California State University, Dominguez Hills summa cum laude with her Bachelors of Arts degree in History, while taking on responsibilities as a Research Assistant at the Dominguez Rancho Adobe Museum in Rancho Dominguez, California. During her time at UCLA she took on roles of Graduate Student Researcher and Teacher's Assistant, and produced her thesis Piyahu Nadu- Land of Flowing Waters- The Water Transfer from Owens Valley to Los Angeles 1913-1939. She has presented several times on subjects of water and aspects of Indigenous worldviews, with her last presentation at the 13th Annual NOIS Indigenous Scholars Symposium at the University of Washington. She now commits her time in the human service sector and contributes to this story map project for UCLA on Indigenous L.A. waterways.
Mapping Indigenous LA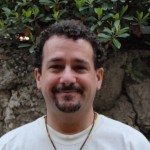 Larry Smith
Contributor
Larry Smith (Lumbee Nation), is an accomplished producer, publicist and co-host of Pacifica's and KPFK's "American Indian Airwaves" (KPFK), one of the longest running public affairs Indigenous radio programs throughout Indigenous Nations and the United States. He has had the honor to interview such noted figures as: James S Anaya, Noam Chomsky, Jack Forbes, Andrea Smith, Victoria Tauli-Corpuz, Haunani-Kay Trask, David E. Wilkins and Robert Williams, just to name a few. For his work in Indigenous media, Larry Smith and "American Indian Airwaves" received special recognition in 2007 by the Bolivian government's La Prefectura del Departamento de La Paz (The Prefecture of the Department of Peace). Mr. Smith is enrolled in the PhD Ethnic Studies Program at the University of California, Riverside (UCR) with an emphasis on Indigenous Media and Policy. In addition, Mr. Smith earned a M.A. in Interdisciplinary Studies: American Indian Studies, Environmental Geography, and Legal History. His master thesis is titled "Urban Indigenous Culture in Los Angeles". Mr. Smith has taught at the University of North Carolina at Pembroke in Mass Media and Communications and Mesa Community College (MCC) in the Department of Cultural Sciences. Presently, Mr. Smith teaches at California State University, Long Beach (CSULB) in the Film and Electronic Arts Department and American Indian Studies.
Mapping Indigenous LA
Other Community Consultants
Cindi Alvitre (Tongva Educator, Professor at CSULB)
Paulina (Member of the Kuruvungna Springs Foundation)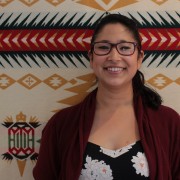 Allison Fischer-Olson, M.A.
Allison Fischer-Olson, M.A., was born and raised in Los Angeles. She is a 2014 graduate of the American Indian Studies Interdisciplinary Program at UCLA. She also received her B.A. in Anthropology from UCLA in 2010, during which time she concentrated on archaeology and American Indian Studies. Allison's current work, including her thesis work, revolves around community centered collaboration in museum and archival spaces, as well as more broadly in cultural heritage. Allison currently works for Wendy Teeter at the Fowler Museum at UCLA in the archaeology department, specifically on repatriation issues, collections research, and general curation support. She also works for Rainbow Bridge Monument Valley Expedition Onward!, a non-profit organization working to create a large scale, multi-institutional exhibition in both digital and museum spaces about an archaeological expedition that took place in the 1930's.
Mapping Indigenous LA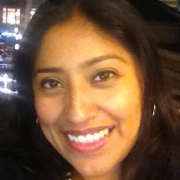 Brenda Nicolas
Latin American Indigenous Diaspora Team
Brenda Nicolas is Zapotec from the communities of San Jerónimo Zoochina and Yatzachi el Alto in the Sierra Juárez of Oaxaca, Mexico. Brenda was born and raised in the Mid-City Los Angeles area. As a child, her parents cultivated the importance of community participation and life with Zoochina. She has participated in Oaxacan regional dances, including the Los Angeles Guelaguetza, and ceremonies back in Zoochina with her fellow villagers. She is a member of Zoochina's migrant committee in L.A., as well as a member of the Indigenous Front of Binational Organizations (FIOB). She transferred from Santa Monica College to the University of California, Riverside where she then studied in Oaxaca. At the University of California, San Diego her M.A. Thesis looked at the community and political participation of Zapotec youth and how these forms of participation influenced identity formation in Los Angeles and Oaxaca City. She will continue developing her work on the identity formation among U.S-based Zapotec youth as a Ph.D. student for her dissertation in the Department of Chicana/o Studies at the University of California, Los Angeles.
Mapping Indigenous LA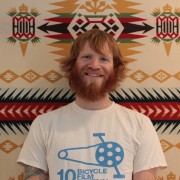 Dean Olson
Dean Olson is a undergraduate senior pursuing a BA in Geography at UCLA, with a minor in Geographic Information Systems (GIS). While his concentration is in political geography, he is also interested in urban studies, city planning and cartography. After completing his undergraduate degree in 2016, he intends to go into a graduate program in either Geography, International Relations or Public Policy. He is an active member of the UCLA Model United Nations. Dean formerly served in the US Navy onboard USS Makin Island in San Diego, CA. His work was primarily in current geopolitics and photographic interpretation, and his professional experience in the Navy eventually led him to his academic interest in political geography and GIS. While deployed, he had the opportunity to travel to cities in South America, South East Asia and the Middle East. He hopes to one day work for the United Nations or a transnational NGO, and would eventually like to teach at a university.
Mapping Indigenous LA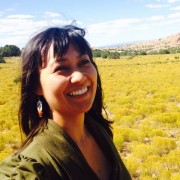 Elizabeth Starks
Website Technician
Elizabeth Starks (MS, Software Systems Design), Zuni Pueblo and Diné, is a Research Scientist at University of Washington Bothell School of Education and an independent cultural technologist specializing in mobile and web application development and exhibit design. Starks works with Native communities and cultural institutions to use technology as a tool for self-representation and empowerment. She has partnered with tribal museums and heritage centers, science and cultural museums, and universities on mobile application development, website development, and print design.
Mapping Indigenous LA