In this project we  aim to provide a digital map of the layered, sedimented geographies of Indigenous Los Angeles through digital storytelling and community-based research collaboration.  Our project includes the Gabrielino/Tongva and Tataviam, the first people of Los Angeles, who struggle for recognition of their sacred spaces and their political rights, American Indians who were displaced through governmental policies, as well as the indigenous diasporas from Latin America (LAID) and Oceania (AP) — people displaced by militarism, neoliberal economic policies, and overlapping colonial histories.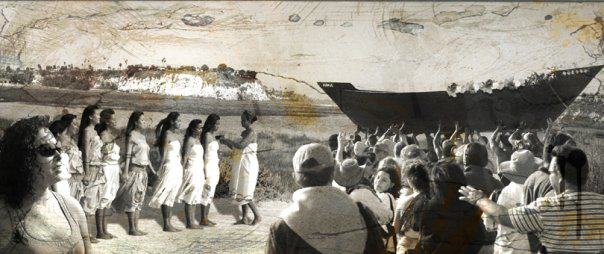 Mapping Indigenous LA is about how the original peoples of the Los Angeles-basin (and islands) relate specifically to this land and how subsequent relocations and migrations of indigenous peoples have reworked space, place, and the meaning of these new racialities and concepts of indigeneity (Spanish, Mexican, U.S.). This project attempts to disrupt the linear and spatially flattened notion of Indigenous peoples who live in LA. That is, we are not presenting an historical narrative that begins with the maps made by the Spanish (circa 1720 map) or represent the Tongva only in association with mission life (San Gabriel Mission).  Rather, we illustrate how many Tongva have had consistent presence within the Los Angeles basin and surrounding islands and still reside in various parts of the city. This perspective recognizes settler colonialism is "a structure, not an event" that requires the elimination of native inhabitants (Wolfe 2006).  Part of this process has been the regulation of Indigenous peoples to a past, thus the overabundance of mission models that do not tell of the experiences of Los Angeles's Indigenous peoples. Rather, it flattens them and creates objects of the past. This past operates to erase ongoing Indigenous peoples presence as well as their political and human rights.
Together we ask:  How do those who have been here since time immemorial, for decades, or newly arriving build and maintain indigenous identities, community, and create alliances through overlapping geographies of Los Angeles? Mapping Indigenous LA provides a research tool that allowing local communities to research their own history and add relevant documents, photography, and digital stories of importance to telling their histories and the stories of places within Los Angeles.  We provide a platform to facilitate understanding of how the rich diversity of indigenous histories of the city  intersect and to see each community's history within in its own interactive map.  We invite you to interact with the narratives, documents, and community knowledge housed here.   Through sharing these stories, we hope to preserve them and create possibilities for new understanding and new alliances by bringing old knowledges into new venues, and providing a guide for educators to teach and understand Indigenous communities of Los Angeles and beyond.